Margaret Dureke, J.D.

Founder & President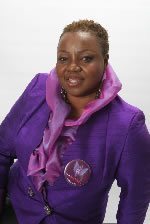 Margaret Dureke, JD, Founder and President of WETATi, once a sojourner in America, but today considers herself a full-fledged American. If anyone believes that America is the land of opportunity, where impossibilities become possibilities, it is Margaret Dureke!
Women Empowered To Achieve The Impossible (WETATi) was founded by Margaret Dureke, the "Moxie Motivator" and the 'How-to-Guru,' as a sister forum to Margaret's Sisters Living On Purpose, an online blog she started almost a decade ago. As the platform to empower, inspire and encourage other sisters grew exponentially, she got the vision that she needed to redesign, enhance and expand the platform. She desires to communicate and teach other women that they too can find meaning and purpose, happiness, joy and fulfillment in their lives – no matter in what remote village or city they may find themselves; and no matter what challenges they may encounter in life. She strongly believes that WETATi will position every woman to achieve their "impossible" if they will dare to and take the necessary actions!
America is a perfect match for Margaret because like America, Margaret believes that if you know what you want, envision it, be willing to do what it takes, and stay the course to achieve that which you once thought was impossible. Margaret believes we all should and must have the impetus to pursue our seemingly impossible dream or aspiration (whatever that may be for you). This belief system stemmed from the realization that you can only achieve that which is possible by daring to achieve that which may seem to be impossible. Margaret Dureke has a BA with honors from Howard University and a JD in Law from American University. She is a national and international entrepreneur extraordinaire, publisher, bestselling author, renowned "Moxie Motivator" (dubbed by Prince George's Gazette Newspaper) and inspirational speaker, personal and business success
coach, leadership trainer, and radio and TV personality.
Margaret has authored several empowerment, business and self help books, including "How to Succeed Against All Odds"; "Eleven Proven Organizational and Time Management Techniques for Highly Effective People"; "Network Marketing: How to Avoid the Damage it Can Do to Your Life and Business & How to Succeed"; and "The Power of Consistency."
Margaret Dureke has many years of successes both in traditional business and in the Network Marketing industry, where she attained her highest position of Senior Vice President. Margaret Dureke and her husband John Dureke have founded and run many successful traditional businesses over the past 19 years, including: www.jahspublishing.com
www.jahsfitness.com
www.jahsactivewear.com.
She is a national and international leadership trainer for major corporations and organizations such as "Blacks in Government" and was recognized as "One of the Most Valuable Trainers for 2010".
Margaret is a happily married mother of three children. Over the years, through the grace of God, Margaret has discovered that her heart and divine calling is definitely to help other women find creative ways to achieve their impossible and refine their mindset in order for them to find fulfillment and purpose in their lives regardless of their geographical locations and/or limitations.
Margaret would be the first to tell you that the benefit of going through a challenge or adversity in life is so we can use that experience to help others, glorify God and 'make a message out of the mess.' She is convinced that every adversity hides a seed of opportunity if you know how to find it. This gave birth to www.margaretspeaks.com, a platform that Margaret has used over the years to get her message out. Margaret's success stories have been featured in many publications, including the Washington Post, BET.com, Sister to Sister Magazine, Heart and Soul Magazine, and The Gazette Newspaper, just to mention a few.